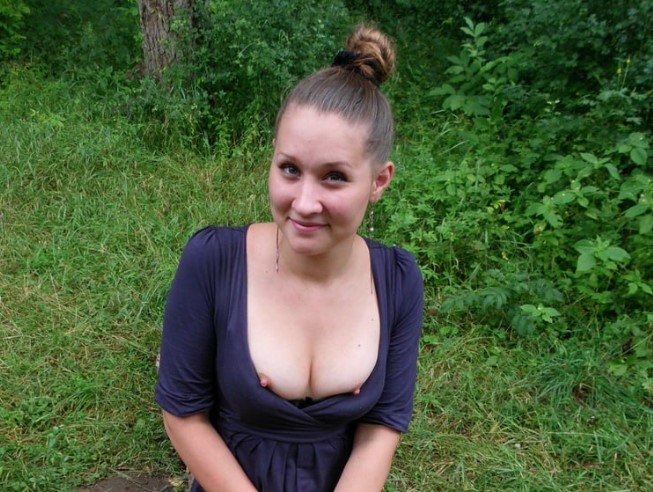 My wife might seem like your everyday basic beauty, but she is actually incredibly naughty. However, that is a side only I get to see! She loves to show off her amazing body, especially in places where she could possibly get caught. Since it was always a naughty fantasy of hers to have many horny viewers, I decided to fulfill her wish! This was a day like any other, we were having a hot date. I decided to take her out on a walk through the woods close to our home. I told her not to wear anything underneath the dress, and I am sure she knew what that meant!
Of course, my hottie is very obedient. Going through the woods, you get to see just how excited she gets every step of the way. She is always eager to show off her amazing body and will stop at nothing until she is fully satisfied. I mean, who could possibly resist her incredible body? Well, after a bit of walking, I took out my camera and told her to start posing. I did not have to explain anything, she began by lifting up her dress, revealing her sexy curves. She has a pair of small perky tits that are just perfect to me. Her thighs are great for suffocating, and her pussy is incredibly tight.
She will pose in the woods and enjoy herself, she loves to be watched, especially watched masturbating, she loves seeing men with hard cocks wanking. I took pictures from all sorts of angles, so you get to see her real beauty. As she poses and starts feeling herself, she will spread her legs and play around too. There was a log just behind her, so she decided dot use it as a prop. Watch her lay down on it, spread her legs wide open, and play with her neatly shaved snatch. She is quite a delightful companion, especially when she is so obedient and always in the mood to fuck.
After leading that this gallery was going to be uploaded online, she gave her all. You get to see her pose nude, masturbate, squat over a pond, and do all sorts of things. She will turn around to show off her tight round ass, too! I am a lucky man to have been able to land such a nice piece of ass, and I thoroughly enjoy spending every minute with her. But I know just how this babe is, so I decided to make this gallery for everyone to enjoy!